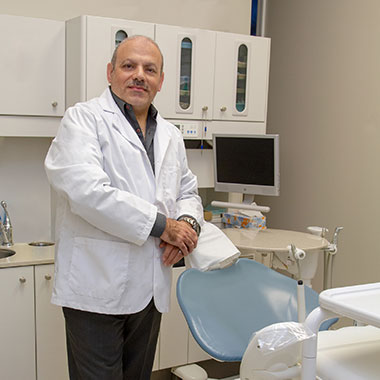 Dr. Maher Naji has more than twenty five years of experience in dental surgery. He successfully completed the American and Canadian board certification.
Dr. Naji successfully completed one year of extensive training in the field of Implant Dentistry in Atlanta, Georgia. He then completed a comprehensive training maxi-course program in oral rehabilitation and received his training and certification in intravenous sedation and advanced cardiac life support.
Dr. Naji is a member of the Academy of General Dentistry (AGD) and a member of the American Academy of Implant Dentistry (AAID) and has completed different courses in the surgical extraction of wisdom teeth, endodontic therapy for root canals, periodontal surgery, cosmetic dentistry, laser dentistry, and Invisalign orthodontic clear aligners.
Dr. Naji is the owner of Station Dental since May 2018 and also is the owner of Pine Valley Dental Centre, 211 Marycroft Ave, Woodbridge, ON. He focuses his practice on providing the highest standards of care, comfort, and accessibility.
Dr. Naji is fluent in both English, Arabic, and Romanian, and in his free time he enjoys swimming and playing soccer. Dr. Naji and his wife have four kids. He looks forward to treating your dental needs, and makes it his mission to provide you a smile with lasting impressions.